Recommended Global Dentistry Webinars & Conferences
Asia Pacific & Middle East
World Dentistry 2024
About Conference
Dentistry is a branch of medicine that is involved in the study, diagnosis, prevention, and treatment of diseases, disorders and conditions of the oral cavity. It can show symptoms of various other diseases and infections within our body if neglect it or just take it as granted.
The aim of the "36th Annual World Dentistry Summit" is to create an international platform for exchanging ideas, sharing views and also provide an excellent scope for learning, covering all the major aspects treatment of diseases, disorders and conditions of the oral cavity . This conference has been specifically organized to focus on the current scenario on modern dentistry and its widespread presence on world of dentistry. Thus it is expected that Dentists, Dental Hygienists, Dental Surgeons, Dental Assistants, Dental Business Assistants, Practice Managers and other Members of the Dental Team's from across the globe will definitely be a part of this conference combining prevalent expertise and noble innovations, making it a great success. It also focuses on providing education opportunities as well as world-class scientific content delivered by quality keynote speakers, with plenary sessions, symposia, hands-on workshops.
Highlights of this conference:
This International Conference on 36th Annual World Dentistry Summit includes international attendees, workshops, lectures and symposia, refreshment break and Grand Luncheon. Persons associated with dentistry in any way can be a part of this conference as an International Member to receive early bird discounts on Registration. So come and be a part of this leading experts and allied professionals meeting from June 06-07, 2024 Chicago,USA to get an insight into the rapidly accelerating pace of changes in dental health that is already having a profound impact on the society and human lives, and will continue to in the near future also.
Importance of attending it:
With members from around the world focused on learning about modern aspects on dentistry and its advances, this is your best opportunity to reach the largest gathering of participants from the Dental and Oral Care community. Conduct presentations, distribute information, meet with current and Potential Scientists, make a splash with new developments, and receive name recognition at this three days event.
The 36th Annual World Dentistry Summit is focusing on latest innovations in the world of dentistry with breakthrough to excellence. The attendees can find:
Exclusive Sessions and Panel discussions on latest innovations in dentistry
Keynote forums by renowned dentists
Speaker Forum
Poster Sessions on latest innovation in all the relevant areas
Poster sessions on every career stage
Young research forum
Post-Doctoral career development session
B2B Meetings
Global Networking with 50+ countries
Novel techniques to benefit your research
Best platform for global business and networking opportunities
Meet the editors of refereed journals, society and association members across the globe
Target audience:
Principal Dentist's
Dental Partners or Owners
Dentists
Dental House Officers
Oral/Dental Surgeons
Orthodontists
Periodontists
Dental Business/Practice Managers
Dental or Oral Hygienists & Therapists
Dental Treatment Coordinators
Dental Nurses
Dental and Oral Health Associations, Societies and Universities
Dental and Oral Health Researchers, Faculty and Students
Procurement and Management teams from Corporate Dental Organizations
Dental Wholesalers, Dealers and Distributors
Manufacturing Medical Devices Companies
So don't miss this opportunity to hear the latest trends and form a network with Global Experts.
Session / Tracks
Track 01: Dental Sleep
Dental Sleep – Dental sleep is a sleep related breathing disorders, such as snoring and OSA, and the impact of sleep disorders on society. A comprehensive evaluation is described that includes upper airway examination and imaging with a focus on areas of pathophysiology in OSA. The Essentials of Dental Sleep Medicine course is a logical way to incorporate OAT into your practice. The course includes a review of sleep related breathing disorders, such as snoring and OSA, and the impact of sleep disorders on society. A final portion of the treatment is case-based and provides clinical examples of the evaluation and treatment of sleep disorders in a dental practice.
Track 02: Cosmetic Dentistry
Cosmetic Dentistry - Cosmetic dentistry is generally used to refer to any dental work that improves the appearance (though not necessarily the function) of a person's teeth, gums and/or bite. It primarily focuses on improvement dental aesthetics in color, position, shape, size, alignment and overall smile appearance.
Track 03: Craniofacial Surgery
Craniofacial Surgery - Craniofacial surgery is a surgical subspecialty of plastic surgery, oral and maxillofacial surgery and otolaryngology-head & neck surgery that deals with congenital and acquired deformities of the head, skull, face, Neck, jaws and associated structures. Although craniofacial treatment often involves manipulation of bone, craniofacial surgery is not tissue-specific, i.e., craniofacial surgeons deal with bone, skin, nerve, muscle, teeth, etc. Defects typically treated by craniofacial surgeons include craniosynostosis (isolated and syndromic), rarecraniofacial clefts, acute and chronic sequellae of facial fractures.
Track 04: Restorative Dentistry
Restorative Dentistry - Restorative Dentistry is the study, diagnosis and integrated management of diseases of the oral cavity, the teeth and supporting structures. It includes the rehabilitation of the teeth and the oral cavity to functional, psychological and aesthetic requirements of the individual patient, including the co-ordination of multi-professional working to achieve these objectives. Restorative dentistry encompasses the dental specialties of Endodontics, Periodontics and Prosthodontics (fixed and removable) and its foundation is based upon the interaction of these specialties in cases requiring complex, multi-faceted care. Restorative Dentistry is often aptly called 'Oral Rehabilitation' due to the increasing need for multidisciplinary and integrated care within and out with the speciality including Orthodontics, Oral and Maxillofacial Surgery,Paediatric Dentistry and Dental and Maxillofacial Radiology, due to the increasing complexity of dental health problems as people live longer. The focus of the Restorative Dentistry speciality is to work with other dental, medical and surgical specialists and other clinical colleagues, to provide and support the integrated management and oral rehabilitation of patients with complex treatment.
Track 05: Nanodentistry
Nanodentistry- In the year 2000, the term and may be the field of nanodentistry were born. As nanomedicine advanced, dentistry also started evolving in the field of Nanotechnology. It is envisaged that nanotechnology will affect the fields of diagnosis, materials, restorative dentistry, and surgery. These exciting new branches namely nanorobotics, nanodiagnosis, nanomaterials, and nanosurgery and nanodrugs would profoundly impact clinical dentistry in the not-so-distant future. Various nanomaterials can be used for restoration of decayed, carious, missing, and fractured teeth. Recent advances in nanomaterials have brought nanocomposites, nanoimpression and nanoceramic into the domain of clinical dentistry. Nanocomposite artificial teeth are also a new development in this field. Nanoinorganic fillers are diffused in the matrix of composite. These are more durable as well as highly resistant to abrasion with superior color.
Track 06: Hypnodontics
Hypnodontics - Hypnodontics is the art and science of using hypnosis to induce comfortable and pain free dental visits. Hypnosis is used to reduce stress and induce anesthesia so that less medication is used. Hard to manage patients often present the majority of problems the dentist encounters in their daily routine. They take extra time and require special consideration by the dentist. Hard to manage patients often put off going to the dentist until the pain or dental problem can no longer be ignored. There are numerous reasons why these patients are fearful, tense, nervous and anxious before, during, and even after the dental visit. The hypnotherapist should meet with this type of dental patient two or three days prior to the dental appointment.
Track 07: Dental Ergonomics
Dental Ergonomics - Dental Ergonomics is the study to define work related musculoskeletal disorders, risk factors and stressful individual behaviours in dentistry which lead to injures and implementing preventive strategies. These problems can be avoided by increasing awareness of the postures used during the work, redesigning the work station to promote neutral positions, examining the impact of instrument use on upper extremity pain, and following healthy work practices to reduce the stress of dental work on the practitioner's body.
Track 08: Orthodontics
Orthodontics - Orthodontics is the branch of dentistry that corrects teeth and jaws that are positioned improperly. Crooked teeth and teeth that do not fit together correctly are harder to keep clean, are at risk of being lost early due to tooth decay and periodontal disease, and cause extra stress on the chewing muscles that can lead to headaches, TMJ syndrome and neck, shoulder and back pain. Teeth that are crooked or not in the right place can also detract from one's appearance. The benefits of orthodontic treatment include a healthier mouth, a more pleasing appearance, and teeth that are more likely to last a lifetime.
Track 09: Laser Dentistry
Laser Dentistry - A dental laser is a type of laser designed specifically for use in oral surgery or dentistry. Lasers can be used as a safe and effective treatment for a wide range of dental procedures and are often used in conjunction with other dental instruments. Dental lasers can be used to: reduce the discomfort of canker and cold sores, expose partially erupted wisdom teeth, remove muscle attachments that limit proper movement, manage gum tissue during impressions for crowns or other procedures, remove overgrown tissues caused by certain medications, perform biopsy procedures, remove inflamed gum tissues and aid in the treatment of gum disease, remove or reshape gum and bone tissues during crown lengthening procedures, help treat infections in root canals and speed up tooth whitening procedures.There are several advantages. Dentists may not need to use a drill or administer anesthesia in some procedures, allowing the patient to enjoy a more relaxed dental experience. Laser procedures can be more precise.
Track 10: Dental Implantology
Dental Implantology - Oral implantology is the study of surgical component that interfaces with the bone of the jaw or skull to support a dental prosthesis such as a crown, bridge, denture, facial prosthesis or to act as an orthodontic anchor. The basis for modern dental implants is a biologic process called osseointegration where materials, such as titanium, form an intimate bond to bone. The implant fixture is first placed, so that it is likely to osseointegrate, then a dental prosthetic is added. A variable amount of healing time is required for osseointegration before either the dental prosthetic (a tooth, bridge or denture) is attached to the implant or an abutment is placed which will hold a dental prosthetic. Success or failure of implants depends on the health of the person receiving it, drugs which affect the chances of osseointegration and the health of the tissues in the mouth. The amount of stress that will be put on the implant and fixture during normal function is also evaluated. T In the presence of healthy tissues, a well integrated implant with appropriate biomechanical loads can have 5-year plus survival rates from 93 to 98 percent and 10 to 15 year lifespans for the prosthetic teeth.
Track 11: Periodontology
Periodontology - Periodontology or periodontics is the specialty of dentistry that studies supporting structures of teeth, as well as diseases and conditions that affect them. The supporting tissues are known as the periodontium, which includes the gingiva (gums), alveolar bone, cementum, and the periodontal ligament. Periodontal diseases take on many different forms but are usually a result of a coalescence of bacterial plaque biofilm accumulation of the red complex bacteria (e.g., P. gingivalis, T. forsythia, and T. denticola) of the gingiva and teeth, combined with host immuno-inflammatory mechanisms and other risk factors which lead to destruction of the supporting bone around natural teeth. Untreated, these diseases lead to alveolar bone loss and tooth loss and, to date, continue to be the leading cause of tooth loss in adults.
Market Analysis
Market analysis of Dentistry:
Report Overview:
The global dental equipment market size was valued at USD 5.4 billion in 2020 and is expected to expand at a compound annual growth rate (CAGR) of 12.1% from 2021 to 2028. Dental equipment is the tools used to examine, manipulate, treat, and restore any oral ailments. Factors such as the increasing geriatric population suffering from oral diseases, evolving medical tourism pertaining to dental treatment, and the introduction of multiple government initiatives for public oral health care, are few growth enablers for the market.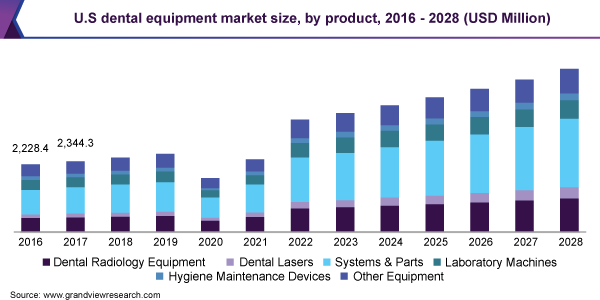 Picture:01
Furthermore, the introduction of efficient and advanced dental equipment by major companies is also creating a boost for the market. Companies like Planmeca Oy, Dentsply Sirona, and Danaher Corporation, are rigorously introducing novel computer-aided imaging technology that will enable the practitioners to prepare a precise course of dental treatment. By product, the market is broadly divided into dental radiology equipment, dental lasers, systems and parts, laboratory machines, hygiene maintenance devices, and other equipment.
According to FDI World Dental Federation, oral diseases impact 3.9 billion people worldwide, with untreated tooth decay (dental caries) impacting more than half of the global population (44%), making it the most prevalent of all the 291 conditions included in the Global Burden of Disease Study. As per the U.S. Centers for Disease Control and Prevention (CDC), 84.9% of children from 2-17 years of age, 64.0% of adults from 18 to 64 years of age, and 65.6% of adults aged 65 and above have had at least one visit to a dentist in 2017. The most frequently carried out dental procedures during these visits include dental fillings, bonding, root canals, crowns, bridges, periodontal treatments, and oral and maxillofacial procedures. This showcases the existing potential dental procedures around the world. Dental disorders like periodontal disease, oral cancers, and environmental injuries resulting from Oro-dental trauma are expected to further assist the overall growth of the market.
High consumption of tobacco, alcohol, an unhealthy diet, and a high intake of sugar are the leading cause of dental caries, which is the most common type of chronic disease experienced globally. The rising geriatric population and their demand for dental services have also seen a surge. According to World Population Prospects, by 2050, 1 in 6 people in the world will be over the age of 65 globally, up from 1 in 11 in 2019, providing a population pool of about 1.5 billion people above the age of 65 years by 2050.
Dental tourism has increased in emerging economies like Asia and Latin America primarily due to the high cost of treatment in regions such as North America and Europe, as dental treatments in these regions have become a commodity. Various government initiatives of countries are proving to be helpful to construct well-planned dental laws and campaigns aiming to improve availability and access to oral health care services; therefore, the aforementioned factors are likely to fuel the growth of the market.
Regional Insights:
North America dominated the dental equipment market and accounted for the largest revenue share of 38.2% in 2020. The region is expected to showcase a significant CAGR in the forecast period.
This is attributed to the rising geriatric population, strong medical infrastructure, well-established reimbursement policies, existence of key market players, and advancement in preventive and restorative dental treatments. Moreover, according to the American Dental Association, 85.0% of individuals in the United States truly value dental health and consider oral health an essential aspect of overall care. The combination of all these factors will make North America emerge as the most promising market during the forecast period.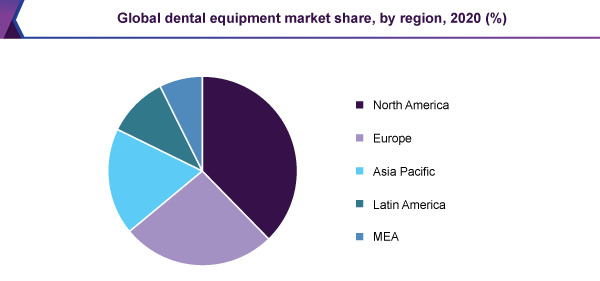 Picture:02
Key Companies & Market Share Insights:
One of the key factors driving competitiveness among market players is the rapid adoption of advanced technology like computer-aided scanners for precise imaging and diagnosis of disorders related to teeth. Moreover, a prominent number of these players are rapidly opting for geographical expansion, strategic collaborations, and partnerships through mergers and acquisitions in emerging and economically favorable regions. Planmeca Oy launched Planmeca Creo C5 in March 2019, which is an advanced 3D printer designed specifically for restorative dental practices and chairside CAD/CAM dentistry. Also, in October 2019, the company launched a series of intraoral scanners that allows fast and accurate scanning being majorly used for restorative dentistry, called Planmeca Emerald in October 2019. Some of the prominent players in the dental equipment market include:
A-Dec Inc.
Planmeca Oy
Dentsply Sirona
Patterson Companies Inc.
Straumann
GC Corporation
Carestream Health Inc.
Biolase Inc.
Danaher Corporation
3M EPSE
Dental Equipment Market Report Scope:
| | |
| --- | --- |
| Report Attribute | Details |
| Market size value in 2021 | USD 7.4 billion |
| Revenue forecast in 2028 | USD 16.5 billion |
| Growth Rate | CAGR of 12.1% from 2021 to 2028 |
| Base year for estimation | 2020 |
| Historical data | 2016 - 2019 |
| Forecast period | 2021 - 2028 |
| Quantitative units | Revenue in USD million and CAGR from 2021 to 2028 |
| Report coverage | Revenue forecast, company ranking, competitive landscape, growth factors, and trends |
| Segments covered | Product type, region |
| Regional scope | North America; Europe; Asia Pacific; Latin America; MEA |
| Country scope | U.S.; Canada; U.K.; Germany; France; Italy; Spain; Russia; Brazil; Mexico; Argentina; China; India; Japan; Australia; South Korea; Singapore; South Africa; Saudi Arabia; UAE |
| Key companies profiled | A-Dec Inc.; Planmeca Oy; Dentsply Sirona; Patterson Companies Inc; Straumann; GC Corporation; Carestream Health Inc.; Biolase Inc.; Danaher Corporation; 3M EPSE |
| Customization scope | Free report customization (equivalent up to 8 analyst's working days) with purchase. Addition or alteration to country, regional, and segment scope |
Segments Covered in the Report:
This report forecasts revenue growth at global, regional, and country levels and provides an analysis of the latest industry trends in each of the sub-segments from 2016 to 2028. For the purpose of this study, Grand View Research has segmented the global dental equipment market report on the basis of product type and region:
Benefits of Participation
Advantages of Participating at our conference:
As an add on advantage the Speaker & Abstract pages created in Google on your profile under your name would get worldwide visibility
Our robust online publicity attracts 20000+ users and 60000+ views to our Library of Abstracts which brings worldwide exposure to the researchers and speakers participate in our conferences
All the conference participants can earn up to 16-18 CME Credits by participating at our

36th Annual World Dentistry Summit

2023

Conference scheduled at vancouver, Canada.
To attain professional development we offer our participants a chance to earn up to 21 CPD Credits authorized by CPD Standards Office, UK by participating at our

36th Annual World Dentistry Summit

2023

.

All the conference participants will be awarded with IOCM Certification.
All the conference participants will have an unique opportunity to participate at One on One Meeting with Eminent Speakers
A Unique opportunity to hear what the global researchers are talking about at our Keynote sessions by world's most eminent researchers in the field of

36th Annual World Dentistry Summit

2023

Top Industries Representation of Industrial Leaders, where you get a great opportunity to meet and discuss with the Industrial Leaders in person
Thought provoking Symposia's
Workshops on Carrier Development
Preconference workshops in all major countries
Nominations for Best Poster Award
Outstanding Young Researcher Award
Group Registration benefits
Benefits of Participation | Speaker
Explore the best in Cutting edge Research
Worldwide acknowledgment of Researcher's profile
Obtain professional development credits
Your presence and talk will be recorded and hosted on YouTube and Video which in turn will gain potential value to your research profile.
Make Lasting connections at Networking and Social Events
We provide unique convergence of Networking, Learning and Fun into a single package
An opportunity to give One page advertisement in abstract book and flyers distribution which eventually gets 1 Million views and add great value to your research profile
Learn beyond your field of interest, a change to know more about the new topics and research apart from your core subject
Benefit of Participation | Sponsor
Worlds No1 Platform to show case

36th Annual World Dentistry Summit

2023

Products
Exposure to the international atmosphere will increase the odds of getting new business
Opportunity to showcase the new technology, new products of your company, and/or the service your industry to a broad international audience
Attain with an exceptional format in showcasing the products and services and to gain the potential clients for the future business prospects
Our

36th Annual World Dentistry Summit

2023

Conference in the One and only location to reach the top customers
Make new connections and fostering potential partnerships
Increase your business by lead generation through our conference participants.
Build a successful business takes a lot of time, effort and drive, so it's always good to have a network of colleagues and associates to draw energy from people who share a similar drive and objective.
Flip side of learning new things is relearning classic techniques.

36th Annual World Dentistry Summit

2023

conferences create opportunities for greater focus and reflection that could help you take your business to the next level.
Benchmarking key strategies for business and moving it forward
Get answers to your business questions and challenges from credible individuals at our conference
Exposure and Networking Opportunity with the various top decision makers of the respective organizations, will eventually grow your business in Global market
Get to know more about your competitors are first-hand, learn more about their businesses, and discover their strengths and weaknesses, all of which can add to your business's competitive edge.
Encounter new vendors and suppliers for your business
Real Benefits in New business - Many Organizations make deals and sign contracts at our Modern Dentistry 2021.
We offer you the Website visibility to more than 35K visitors in less than 6 months
Promotional logo of your organization at our conference banner, website and other proceedings, branding and marketing material
Hosting session slots, poster awards, recognition in opening ceremony and complimentary registrations, exhibition/workshop booth, low-budget options.
Benefit of Association for Collaborators
No one in the world have this huge visitors towards

36th Annual World Dentistry Summit 2023

, these is the best platform to show case your society.
Create long-lasting relationships with the peers
Promotional content and Logo of your Association at our conference banner, website and other proceedings, branding and marketing material will increase your subscribers/Members number by 20 %.
Our Website visibility to your Organization page can give a great impact for your association in the Global Market.
Your representatives can network with key conference delegates to update their knowledge and understanding of your organization and services.
Details will be added to the conference press release where the details will be shared to < 100000 outlets
Details will be incorporated in all conference promotional materials which will be distributed to Hospitals, Universities, Society and Researchers
Benefits of Participation | Delegate
Helps to meet Experts & Influencers Face to Face.
Opportunities to meet researchers and experts of same field and share new ideas
Can help to know New Tips & Tactics
Professional Development – Elevate your knowledge and Skills
Conference attendance inspires, rejuvenates, and energizes delegates
Your participation at our conference will be helpful for a new approach and ideology that can be utilized for the extending the outcome of Companies or Industries.
Enjoy the alluring city environment where the conference is being held.
Raise your profile by being well-known
Visa Application Process
Visa Application Documents You should only apply for business visas to attend and attend conferences. Contact your nearest Toronto, Canada Travel Agency/Visa Information Center/Embassy for the correct application form.
All visas for the visit to Toronto, Canada are processed by the respective embassy authorities in the correct way only after the presentation of the corresponding documents.
If no documents are provided or if the guidelines are not followed, the competent authorities hold the right to reject/cancel the visas.
The minimum documents that may be required when applying for the visa from / Vancouver, Canada include:
Official Letter of Invitation
Letter of Acceptance/Approval for abstracts (if you are a speaker)
Proof of payment receipt for registration
Hotel Booking Confirmation Letter for accommodation issued on conference letterhead
Note: For the Letter of Invitation and Accommodation Confirmation, payment of registration and accommodation fees is a prerequisite. Please contact us for more information
To Collaborate Scientific Professionals around the World
Conference Date June 06-07, 2024
For Sponsors & Exhibitors
Useful Links
Past Conference Report